The recent combination of the Remodelers Council and 55+ Council into the new Custom Builders and Remodeler's Council has been really exciting! The energy and ideas with the new and existing members is bringing new life the council. It has been really great meeting all the new members and collaborating on new events and classes for 2017. ~ Jennifer Russell, HOM Solutions
Custom Builder & Remodeler Council Info
Annual Member Dues
Dues are $90 or $150 per year for each individual HBA member, depending on which NAHB Council you choose to join.
Membership Requirements
Membership in the council is available to all HBA members in good standing.
Application / Brochure
Download Application / Brochure, fill out the application and send it with the fee to the HBA.
Events Produced
Builders Brews & Brats (Fall Product Expo)
Educational Events
Numerous Networking Events
About the Custom Builder & Remodeler Council


What is the Custom Builder & Remodeler Council?
The Custom Builder Remodeler Council is a group of building professionals that seeks progress and prosperity for the Custom Home Builder, Remodeler, and Aging in Place Market. Our proactive approach to education, recognition and advocacy in the Denver Home Building Industry will provide a fresh perspective to the way you conduct business today and in the future.
What are the Benefits of Joining the Custom Builder & Remodeler Council?
Benefits at the Local Level
Educational and professional designation programs
Awards and recognition program
Networking opportunities
Additional Benefits at the National Level
"Why Join the NAHB Remodeler's Council?"
"Why join the NAHB 55+ Council?"
Your fees make you eligible for the many benefits of the National Remodelers Council, they include the following:
Directory of Professional Remodelers
Directory of NAHB Remodeler Associates
Consumer Information
National Home Remodeling Month
News Releases, ReNews monthly electronic newsletter and CAPS (Certified Aging-in-Place)
Connection Newsletter
Industry Data and Statistics
Market Research
For a full list of benefits provided at the National level, visit www.nahb.org.
Upcoming and Recent Events
2018 CBRC Calendar of Events now available!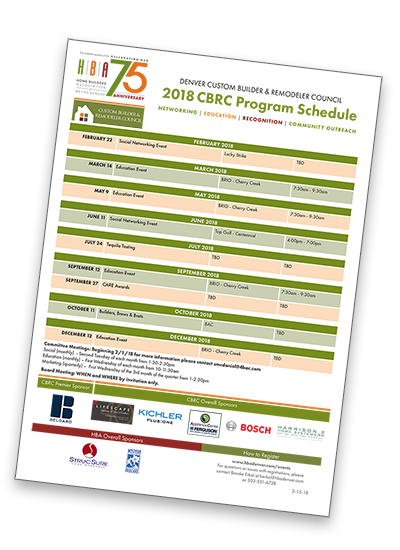 ---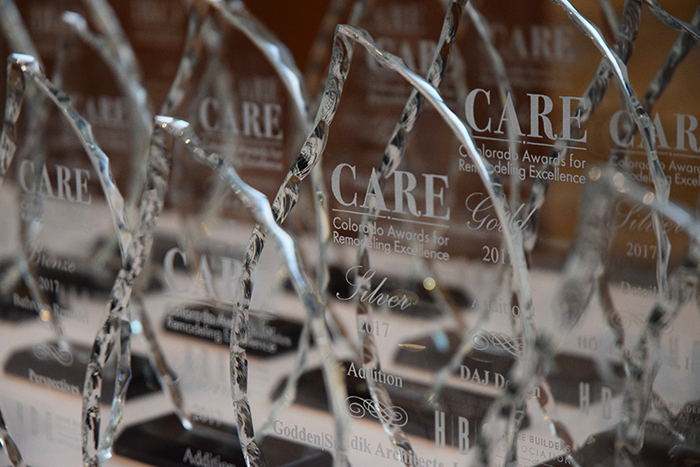 Colorado Awards for Remodeling Excellence
The Custom Builders and Remodelers Council (CBRC) of the HBA of Metro Denver will hold the 21st annual CARE (Custom and Remodeling Excellence) Awards on Thursday, September 27th, 6pm - 10pm. The event will be held at the Halcyon Hotel, Cherry Creek, 245 Columbine Street. It will be a night to remember as remodeling projects, architects, designers, and builders from around the Denver metro area are recognized for their exemplary work in the custom building and remodeling capacity throughout the Denver metro area. The CARE Awards is the largest ceremony in Colorado focusing specifically on the custom home buildin and remodeling industry.
Get your tickets here!