HBA Officers and Board of Directors
HBA Officers and Board of Directors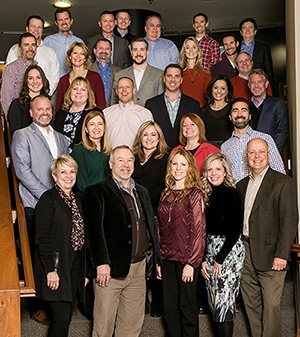 2018 HBA Board of Directors and Dedicated HBA Staff
The HBA is governed by senior officers and the board of directors, and it's a prestigious honor to serve members and colleagues. These positions demand a significant amount of time that senior officers and the board give back to the HBA.
Members of the senior officers and board are elected by the general membership or are appointed by the HBA president. To be elected, Board candidates are scrupulously interviewed by the nine-member nominating committee, after which the general membership votes on the final candidates at the annual membership meeting in October.
Appointed senior officers or board members are recognized through their roles as chair or co chair of a council or committee, or as liaisons to a related industry. Both are identified through the association's bylaws.
Each month, senior officers and the board meet to create policy and ensure that the HBA's mission and objectives are being followed.
2019 Executive Committee
Heidi Majerik

President

Southern Land Company

Mark Bailey

President-Elect

Toll Brothers

Angela Harris

Vice President - Secretary

Trio Environments

Jeff McGovern

Vice President - Treasurer

William Lyon Homes

Jennifer Williams

Chair, Council Board

KGA Studio Architects

Jeff Whiton

CEO

HBA of Metro Denver

Chérie Talbert

Executive Dir, MHC

Sr. VP, HBA of Metro Denver
2019 Directors
Peter Benson
Elected Builder
Koelbel & Co.

David Bracht
Elected Builder
Oakwood Homes

Jason Brown
Chair, CBRC
Ascent Builders

Dave Bulloch
Appointed Builder
Century Communities

Devin Bundy
Chair, Trade Council
McClure Concrete

Randy Carpenter
Elected Builder
KB Home

Tim Craft
President's Appointed Builder
Craft Companies

Ricarda Dietsch
Elected Builder
Taylor Morrison

Rick Dengler
Elected Builder
Brookfield Residential

Dawn Duhamel
Chair, PWB Council
Possibilities for Design

Philip Eidenschink
Chair, Associate Member Council
JWilliams Staffing

Aaron Foy
Chair, Gvt Affairs Committee
BLVDWAY Communities

Stephanie Graham
Chair, Young Leaders Council
TRI Pointe Homes

Tom Kaufman
Associate Member Appointment
Antonoff & Company Brokers

Greg Krause
Elected Builder
Metropolitan Homes

Melissa Lambrecht
President's Appointed Builder
Consolidated Construction Management

Dave Lemnah
Elected Builder
Lokal Homes

Scott Moberg
Immediate Past President
Joyce Homes

Matt Osborn
Chair, Past Presidents
Front Range Development

Chris Presley
Elected Builder
Epic Homes

Diana Rael
Associate Member Appointment
Norris Design

Bill Rectanus
Elected Builder
Thrive Home Builders

Tracy Sandoval
Chair, Parade of Homes
Oakwood Homes

Hope Marie Sneed
Associate Member Appointment
BSB Design

Jeff Stone
Chair, North Metro Building Council
The Artisan Shop

Heidi Tackett
Chair, Sales & Marketing Council
Gateway Mortgage

John Vitella
Chair, Metro Housing Coalition
Vitella Partners

Bill Wood
Chair, Home Builders Foundation
Home Builders Foundation